Coleman Group of Companies Gold Sponsor for 60th Anniversary New Year's Eve Celebration

City of Corner Brook
Media Advisory
For Immediate Release
The City of Corner Brook is pleased to announce Coleman Group of Companies as a Gold Sponsor of the City of Corner Brook's 60th Anniversary Celebrations. Coleman's has agreed to sponsor the inaugural event for this year's celebration being held on New Year's Eve.
Judy Bennett, Public Relations Officer stated that "Coleman's are very proud to be a part of these celebrations, marking a significant year in the history of Corner Brook".
"We are very pleased to have Coleman's as a sponsor of our New Year's Eve Celebrations", said Councillor Murphy. Coleman's has a long, successful history in our community and we are thrilled to have them partner with us to celebrate Corner Brook's 60th Anniversary.
Background: The Coleman Group of Companies is a family owned enterprise, focused on supporting the community since 1934. Their quest to maintain and raise standards has energized and grown the company through four generations. Coleman's is renowned for bringing the first self-service grocery store to Newfoundland. Their innovative spirit, is an inspiration to all.
Event Details: The New Year's Eve celebration commences at 8:00 p.m. with free skating, face painting, coloring contest, a bouncy castle, entertainment by Dave McHugh & Band and much more. The event is free to the public. Residents are encouraged to provide a non-perishable food item.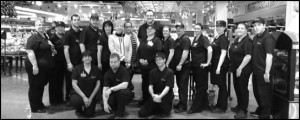 PDF: Coleman Group of Companies Gold Sponsor for 60th Anniversary New Year's Eve Celebration
MEDIA CONTACT:
Mayor Charles Pender, (709) 637-1537 or cpender@cornerbrook.com
Councillor Mary Ann Murphy, Chairperson 60th Anniversary Committee, (709) 637-1588 or mmurphy@cornerbrook.com