2018 Corner Brook to Host 18th Annual Scotiabank Hockey Day in Canada on Sportsnet

City of Corner Brook
Media Advisory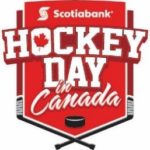 – All seven Canadian NHL teams in action during marathon telecast on January 20, 2018 –     
TORONTO (June 23, 2017) Canada's premier hockey celebration returns for its 18th annual edition, with Sportsnet and Scotiabank announcing that Scotiabank Hockey Day in Canada will take place in Corner Brook, Nfld., on Saturday, Jan. 20, 2018.
"The City of Corner Brook is pleased to work with Scotiabank and Sportsnet to host Scotiabank Hockey Day in Canada," said Charles Pender, Mayor of Corner Brook. "We are very proud of our storied hockey history and we are honoured to share it with Canada. We are excited to host this event and believe it will provide a rich experience to residents and hockey fans alike. Undoubtedly, Scotiabank Hockey Day in Canada will create memories for this community that will last a lifetime."
The 18th annual edition of Scotiabank Hockey Day in Canada promises to be a spectacular festival honouring Canada's game. Ron MacLean returns to host Sportsnet's marathon broadcast from the Corner Brook Civic Centre, with Don Cherry also on-site for Coach's Corner.
"Scotiabank Hockey Day in Canada is an incredible opportunity to share our passion for the sport, bring together the community in Corner Brook, and unite hockey fans across the country," said Craig Thompson, Senior Vice President, Atlantic Region at Scotiabank. "Scotiabank is proud to support hockey at all levels in Canada, from the NHL to the 8,000 community hockey teams we support nation-wide, including 20 teams in Corner Brook. We look forward to celebrating The 5th Season with fellow coaches, players, and fans across Canada during this special event next January."
Festivities for the 18th Scotiabank Hockey Day in Canada begin Wednesday, Jan. 17, featuring community and family-friendly hockey events for all ages in Corner Brook, leading up to the main event and Sportsnet's broadcast of all seven Canadian NHL teams on Saturday, Jan. 20. More details around the celebration and broadcast will be announced in the coming months, but the hockey match-ups for the day have been confirmed. The scheduled games are Winnipeg at Calgary, Toronto at Ottawa, Boston at Montreal and Vancouver at Edmonton.
"It's been more than a decade since Scotiabank Hockey Day in Canada travelled to Newfoundland and we are thrilled to be making our return," said Joel Darling, Executive Producer, NHL Special Events, Sportsnet. "We have no doubt the people of Corner Brook will embrace this event and make it spectacular through their kindness, hospitality and infectious excitement for hockey. Sportsnet is honoured to once again be bringing this wonderful celebration of Canada's passion for hockey to fans across the country."
Nestled in the scenic Humber Valley of Newfoundland's west coast, the city of Corner Brook is both the commercial hub of the Western Region and the second largest city in the province with a population of roughly 20,000 people. As home of the Newfoundland & Labrador Hockey Hall of Fame the city's energetic, vibrant and dynamic passion for hockey dates back more than 80 years. Corner Brook has a large vibrant Minor Hockey Association and programming for hockey fans of all ages. To learn more about Corner Brook, visit www.cornerbrook.com.
 Scotiabank Hockey Day in Canada's 18th annual celebration continues an important Canadian tradition. Previous host locations include: Kenora, ON (2017), Kamloops, B.C. (2016); Halifax (2015); Lloydminster, AB/SK (2014); Peterborough, ON (2013); Summerside, PEI (2012); Whitehorse (2011); Stratford, ON (2010); Campbellton, NB (2009); Winkler, MB (2008); Nelson, BC (2007); Stephenville, NL, (2006); Shaunavon, SK (2004); Iqualuit, NU (2003); Windsor, NS. (2002); Red Deer, AB (2001); and Toronto (2000).
Social Media Links
Like Scotia Hockey facebook.com/scotiahockeyclub
Follow Scotia Hockey on Twitter @Scotiahockey
Follow Scotia Hockey on Instagram @Scotiahockey

About Sportsnet
Sportsnet is Canada's #1 sports media brand, connecting Canadian sports fans to their favourite teams and athletes.  Delivering storytelling on a local, regional, national and global level, the multiplatform brand consists of Sportsnet, sportsnet.ca, Sportsnet 590 The FAN, Sportsnet 960 The FAN, Sportsnet NOW, and the Sportsnet app. Sportsnet consists of four regional channels (Sportsnet East, Ontario, West and Pacific), and the nationally-distributed Sportsnet ONE, Sportsnet 360, and Sportsnet World.  Sportsnet is the official Canadian NHL national multimedia rights holder, and is also the official regional television broadcast rights holder for the Calgary Flames (including radio rights on Sportsnet 960 The FAN), Edmonton Oilers, Toronto Maple Leafs (including radio rights on Sportsnet 590 The FAN) and Vancouver Canucks. Sportsnet also has exclusive TV & radio coverage of all 162 Blue Jays games, as well as other MLB games, Toronto Raptors, NBA, Grand Slam of Curling, Rogers Cup, CHL, IndyCar, and extensive soccer programming including Premier League, Bundesliga, FA Cup and 2018 FIFA World Cup European Qualifiers.
About Scotiabank
Scotiabank is the Official Bank of the NHL®, NHL Alumni™, CWHL, Vancouver Canucks®, Winnipeg Jets®, Toronto Maple Leafs®, Ottawa Senators®, Edmonton Oilers® and the Calgary Flames® whose home arena is the Scotiabank Saddledome. The Bank also supports the Montreal Canadiens®. Scotiabank's Community Hockey Sponsorship Program supports over 8,000 minor hockey teams in communities across Canada. To find out more about Scotiabank's hockey programs, please visit www.scotiabank.com/the5thseason.
Scotiabank is Canada's international bank and a leading financial services provider in North America, Latin America, the Caribbean and Central America, and Asia-Pacific. We are dedicated to helping our 23 million customers become better off through a broad range of advice, products and services, including personal and commercial banking, wealth management and private banking, corporate and investment banking, and capital markets. With a team of more than 88,000 employees and assets of over $921 billion (as at April 30, 2017), Scotiabank trades on the Toronto (TSX: BNS) and New York Exchanges (NYSE: BNS). For more information, please visit www.scotiabank.com and follow us on Twitter @ScotiabankViews.
Media Contacts:
Sportsnet:
Sarah Grossman, sarah.grossman@rci.rogers.com, (m) 416.509.9694
Scotiabank:
Erin Truax, erin.truax@scotiabank.com, (m) 416.578.9659
Corner Brook:
Bonita Decaire, bdecaire@cornerbrook.com (m) 709.637.1662