Information Update
Downtown Revitalization Project: Downtown Urban Design Action Plan: includes new curbs, walkway, sidewalks asphalt patching, sod, park benches, traffic signage, and heritage lighting.
The project involves the beautification and revitalization of two parks and five traffic islands in the downtown sector. This work will include excavation, installation concrete curb and gutter, concrete and brick walkways, asphalt patching, landscaping, sod and topsoil, new park benches, traffic signage, and heritage lighting.
The Downtown Urban Design Action Plan (DUDAP) phase 1 began this week. The DUDAP uses a theme of similar design elements and signage throughout the Downtown sector with a focus on:
Leisure Destinations
Corridors
Traffic Islands
Gateways
What is the timeline and plan for Phase 1?
Approximately six weeks and includes the heavy civic work–curbs, sidewalks, asphalt, and starting signage.
The improvements on Main Street will occur  between 7: 00 a.m. to 7:00 p.m. Occur one project at a time. They will progress down Main Street to West Street park area.
How many phases are there?
Downtown Urban Action Plan will occur in four phases. Phase two (2) will encompass brick installation. Phase three (3) will include landscaping. Phase four (4) includes wayfinding, information kiosk, and downtown signage.
How will traffic and transit be affected?
All roads will remain open during the six weeks. Vehicular traffic interruptions will be limited.
What about pedestrian access and parking during construction?
Interruptions to pedestrian traffic and on street parking will be kept at a minimum.
What is the cost ?
The overall cost of the four (4)-phase project is estimated over $1.3 million and is cost shared between: Atlantic Canada Opportunities Agency (ACOA), NL Department of Tourism, Culture, Industry and Innovation, City of Corner Brook, and Downtown Business Association.
Construction and Improvements for the Phase 1 of the project is approximately $500,000.
Where can I get more information and project updates?
The City of Corner Brook website or https://www.cornerbrook.com/infrastructure-public-works-projects
Proposed Projects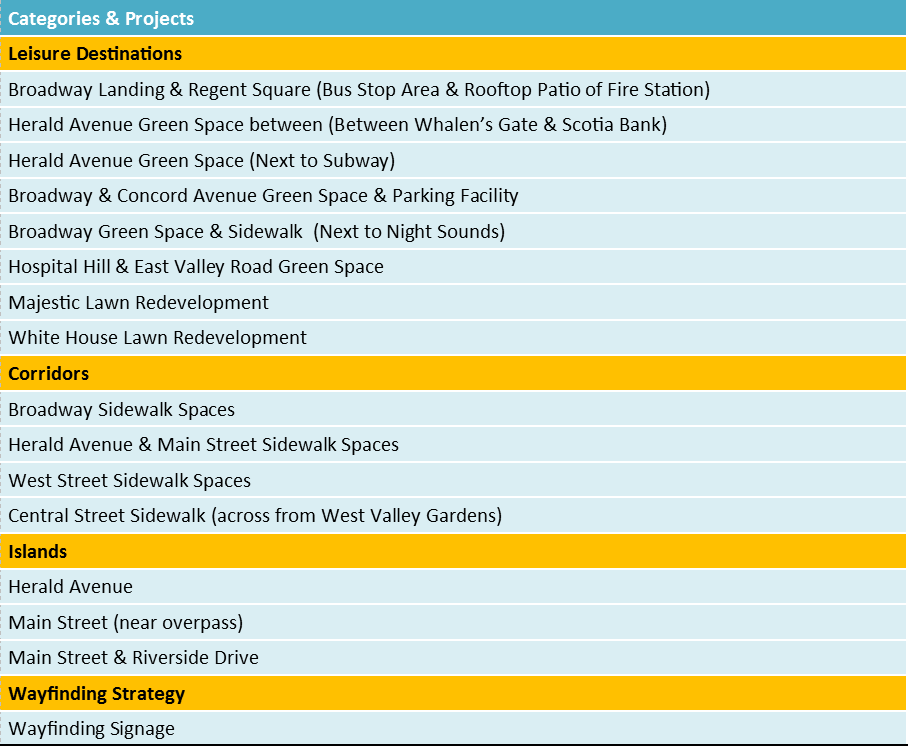 Map