Media Advisory: City of Corner Brook Winter Operations

City of Corner Brook
Media Advisory
Winter preparation is underway in the City of Corner Brook. Snow Clearing operators are often out clearing snow in unfavorable weather conditions in order to make the roadways as safe as possible for residents. Our crews monitor weather conditions and are prepared and ready to respond.
Did you know?
Corner Brook receives an average snowfall equivalent to 16 feet (4.87 metres) each winter. Snow usually falls daily instead of large snow storms.

Depending on conditions, we spend approximately $1.8 million annually on snow removal.

The City of Corner Brook uses an average of 3000 tonnes of sand and 4000 tonnes of salt each winter to improve traction on the roadways of Corner Brook.

There are numerous pieces of heavy equipment utilized during a major snow clearing operation.

 Our dedicated, hard-working operators will do their best to keep the roadways clear and safe.
The City maintains the following equipment to clear snow from the roads:
9 snow plows with wings
6 sanders (3 large-1 with a front plow; 3 small)
2 sidewalk plows-blowers
3 loader mounted snow blowers
3000 gallon brine unit
The City of Corner Brook Infrastructure and Public Works Department would like to remind residents of the
Safety Regulations for Winter Operations:
Plowing
The City of Corner Brook Public Works Division is committed to keeping all roads within the city safe and navigable before, during, and after every winter snow event. All winter snow events are different and ideal pavement conditions (black top) cannot always be achieved during the winter months.
Zones
The City's streets and roads are divided into 7 main zones, a small road route and city parking areas. Each zone is covered by 1 or 2 plows depending on their size and complexity. Contractors are engaged at times to reduce the time needed to finish plowing certain routes. Under normal conditions it takes approximately 12 hours to completely plow each route. During heavy snow events the primary streets may have to be plowed more frequently, thereby extending the time to complete the secondary and residential roads.
Sanding and Salting
The City of Corner Brook believes in using the right amount of product (salt and/or sand) in the right place and at the right time. All sanding trucks are equipped with automatic controls that spread a desired amount of salt and/or salt depending on road conditions.
 City Snow Blowers
Snow blowers are used when weather allows and are utilized for widening the streets and intersections. The snow blowers start on the main roads and school zones first and then move to the side streets. The City of Corner Brook currently has 3 heavy duty snow blower units that attach to the snow plows in place of the front blade
SAFE   WINTER  OPERATIONS  REQUIRES  WORKING TOGETHER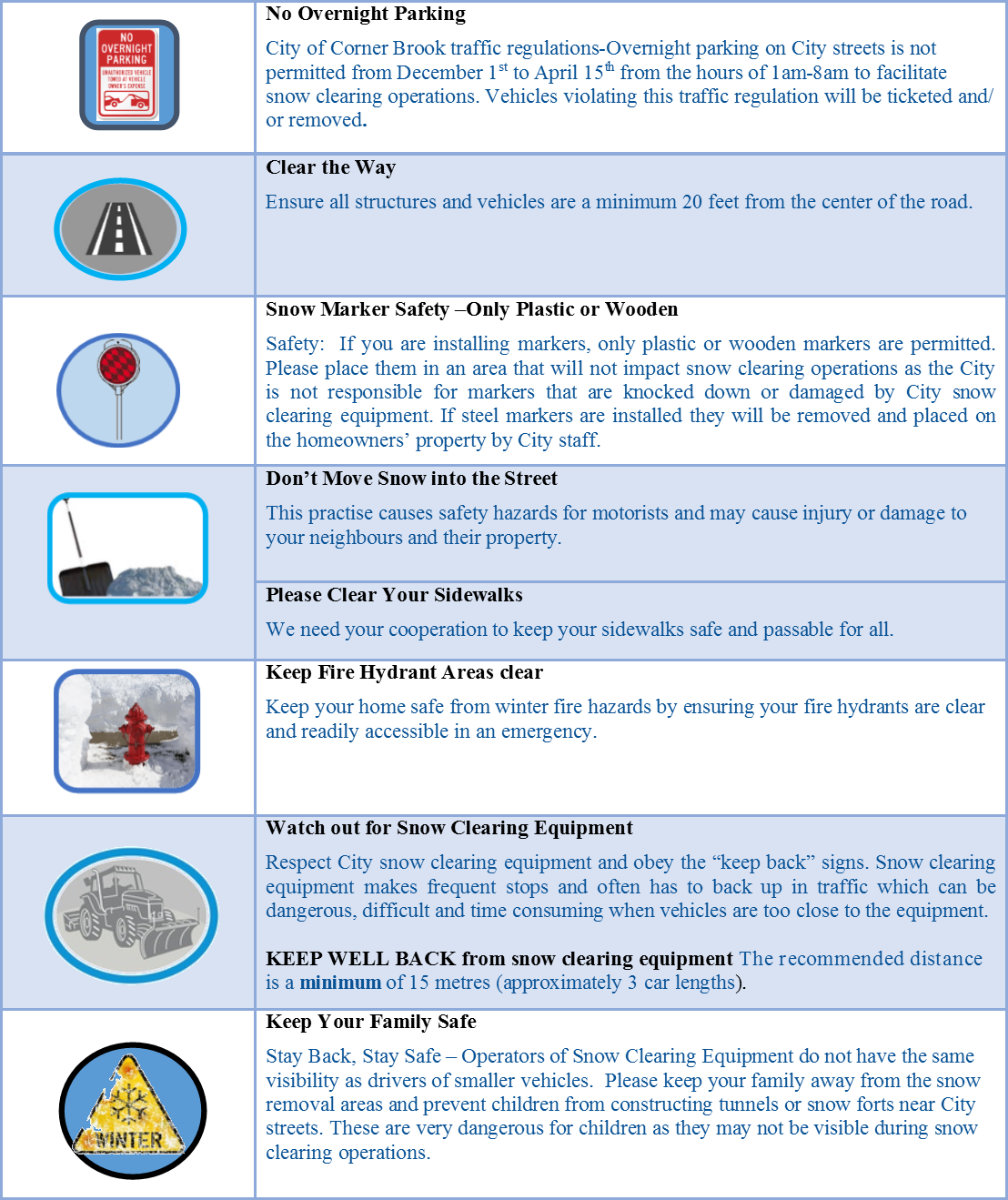 MEDIA CONTACT:
Bonita Decaire
Information Officer, City of Corner Brook
709-637-1662
bdecaire@cornerbrook.com
December 15, 2017: For Immediate Release 4:38 pm