The Smart Cities Challenge Brainstorming Session

City of Corner Brook
Media Advisory
Please join us to brainstorm ideas for the Smart Cities Challenge
**Register today Brainstorm ideas: Smart City Challenge
Wednesday April 11 City Hall 2-4 pm
email: ageorge@cornerbrook.com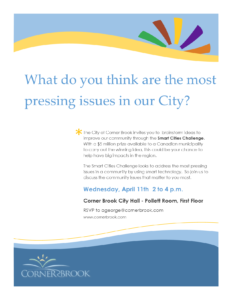 The Smart Cities Challenge
The Smart Cities Challenge is a pan-Canadian competition open to communities of all sizes, including municipalities, regional governments and Indigenous communities (First Nations, Métis and Inuit). The Challenge encourages communities to adopt a smart cities approach to improve the lives of their residents through innovation, data and connected technology.
One prize of up to $50 million open to all communities, regardless of population;
Two prizes of up to $10 million open to all communities with populations under 500,000 people; and
One prize of up to $5 million open to all communities with populations under 30,000 people.
Infrastructure Canada is engaging Indigenous leaders, communities and organizations to finalize the design of a competition specific to Indigenous communities that will reflect their unique realities and issues. Indigenous communities are also eligible to compete for all the prizes in the current competition.
The Challenge will be an open and transparent process. Communities that submit proposals will also post them online, so that residents and stakeholders can see them. An independent Jury will be appointed to select finalists and winners.
For more information
The Smart Cities Challenge
http://www.infrastructure.gc.ca/plan/cities-villes-eng.html
ONLINE VERSION
We have created a short survey to assist in providing feedback on the issues that matter to you.  This survey will also allow you to provide ideas on how we can improve our city through smart technology.  It would be greatly appreciated if you could take a few minutes to fill out the survey which will provide us critical information for our Smart Cities Challenge application.