Media Advisory: Fire Advisory Issued for the City Of Corner Brook July 21, 2018- 3:45 p.m.

City of Corner Brook
Media Advisory
On Saturday, July 21, 2018- 15:45 hours the Corner Brook Fire Department has issued a fire advisory for the City of Corner Brook.
Permit burning within the municipal boundaries of the City of Corner Brook is banned due to dry and hot conditions. All outstanding burning permits are suspended until further notice.
Approved, recreational, backyard fire pits with appropriate screens are allowed, but are not to be used to burn debris or yard waste such as twigs and leaves. Corner Brook Fire Services is asking all residents to exercise caution when using their approved fire pits.
When enjoying a leisure activity, such as a back yard barbecue or approved fire pit, please be responsible, diligent and safe.  This advisory includes charcoal barbecues, recreational fires in campgrounds and in parks.
The Corner Brook Fire Department is asking residents to
keep a garden hose nearby, connected and ready for use in case of a fire
safely douse the fire when you're done. The safest way to extinguish an outdoor fire is with water
watch the wind direction to ensure sparks aren't getting on flammable materials
never leave outdoor fires unattended
To report a fire, or unauthorized burning, call 9-1-1
This advisory will remain in effect until further notice.
Corner Brook Fire Services will continue to monitor the situation. If environmental conditions deteriorate, the advisory may be upgraded to a fire restriction, or ban.
For further updates or changes to the warning, please visit the City of Corner Brook website at https://www.cornerbrook.com/  and search Fire Bans.
The City of Corner Brook would like to thank you for your cooperation and apologizes for any inconvenience this may cause.
FOR INFORMATION CONTACT:
Bonita Decaire
Information Officer
City of Corner Brook
709-637-1662
bdecaire@cornerbrook.com
The City of Corner Brook has four fire hazards
No restriction (green)
Fire Advisory (yellow)
Fire Restriction (orange)
Fire Ban (red)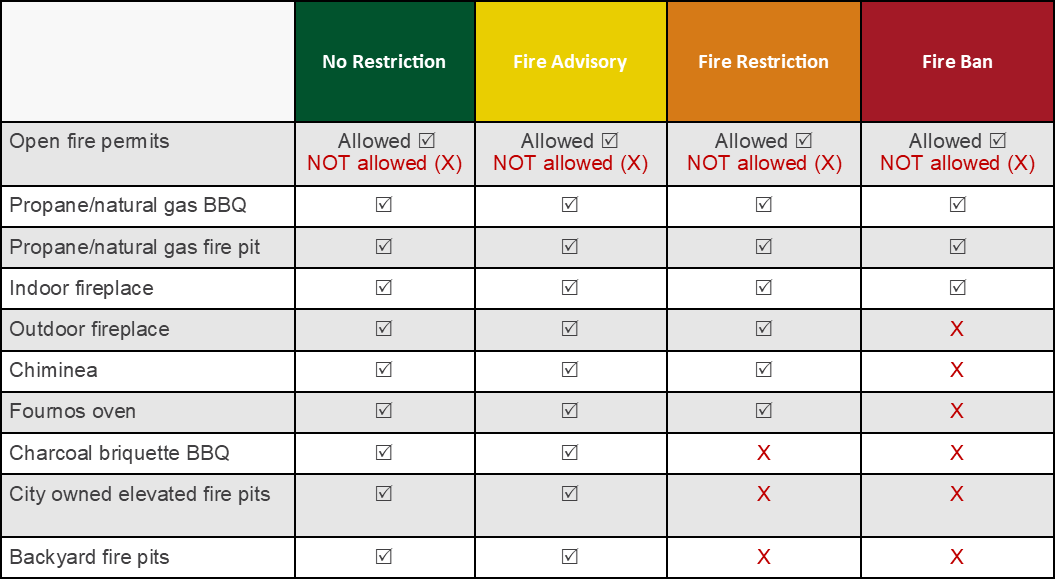 Details:
No Restriction –  low fire danger. Corner Brook's Fire Services reminds residents that open fires are only permitted in acceptable fire pits and must be managed and extinguished properly.
Fire Advisory – moderate fire danger. Corner Brook's Fire Services warns residents that a more restrictive fire ban may be coming or that there is a short-term concern like a major wind event which may increase the fire hazard level. During a fire advisory, open fires are allowed, but residents are reminded to be extra vigilant. Soaking the area adjacent to the fire pits with water is recommended.
Fire Restriction – high fire danger. Fire hazard conditions are at a level where wildland fires can start and grow quickly. Certain types of open fires are restricted. No open wood burning fires or charcoal briquette bbqs are allowed. Wood burning fires in screened appliances such as indoor/outdoor fire places or Fourno ovens are permitted. Gas or propane stoves/bbqs and portable propane fire pits are allowed.
Fire Ban – extreme fire danger. No campfires, burning of wood products or charcoal briquettes allowed. Gas or propane stoves/bbqs and portable propane fire pits are allowed.