News Release: Rodney Cumby appointed as new City Manager

City of Corner Brook
Media Advisory
The Council of the City of Corner Brook is pleased to announce the appointment of Rodney Cumby as its new City Manager.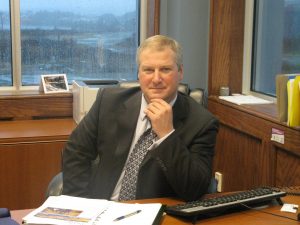 A native Newfoundlander, Mr. Cumby is an experienced municipal administrator with over 20 years' experience in executive management.  His current position is Executive Manager of Operations and Planning for the City of Lloydminster where he is part of a team that oversees approximately 350 full-time employees and an $85 million budget. Previously, Mr. Cumby held positions as CAO with the towns of Paradise, Portugal Cove-St. Phillips, Torbay, and as Town Clerk/ Manager with the Town of Pouch Cove.
Mr. Cumby holds a Bachelor of Commerce Degree from Memorial University and has completed additional training in Government Leadership from the University of Alberta. He is a former President of the Professional Municipal Administrators Association (PMA) and a past Director with the Canadian Association of Municipal Administrators (CAMA).
"I am looking forward to returning home to Newfoundland," said Mr. Cumby. "I have family connections on the west coast and I believe Corner Brook is an ideal place to live. My family and I are eager to get involved in the many recreational and outdoor opportunities that exist here. Senior staff and Council have been very welcoming and I'm excited to join such a dynamic organization. I can't wait to meet the entire team, and start working together to serve the residents of Corner Brook."
"I'm thrilled to have someone of Rodney's calibre join our team," said Mayor Jim Parsons. "Not only does he bring extensive experience from different municipalities, he has a genuine affection for Corner Brook and really plans to be part of the community. Council looks forward to working with Rodney to improve our operations and spearhead Council's initiatives.
"We would like to thank Mr. Dale Park for taking on the role of Acting City Manager during this recruitment period," said Mayor Parsons. "Dale and our whole team really stepped up and we appreciate their dedication and commitment."
Mr. Cumby is expected to begin his appointment on February 11th, 2019.
CONTACTS:
Bonita Decaire
Information Officer
City of Corner Brook
709-637-1662 ⁞ bdecaire@cornerbrook.com
www.cornerbrook.com
2:30 pm January 16, 2019