There is a new interactive map for ATV enthusiast visiting the City of Corner Brook that outlines the amenities. Users can find coffee shops, gas, restaurants and shopping on the designated ATV route.
The online map provide a diversity of viewing options for exploring Corner Brook's services, and roads. People can choose from  canvas views, street view, topographic map view, terrain map view, or a imagery view.
ROUTE: The Corner Brook ATV route primarily follows the waterfront with the exception of a venture through Main Street and Broadway for basic amenities. It follows Riverside Drive, Main Street, Herald Avenue, Broadway, Pier Road, trail between Pier Road and Griffin Drive, Griffin Drive, and Petries Street to Hillards Road.
Map Access:
Use your zoom to see the route and the services
URL link: https://ccbrook.maps.arcgis.com/apps/webappviewer/index.html?id=22880d3965dc452d8cffc7a813b94e61
Disclaimer: ATV operation deviating from the designated route must be approved in writing from City Manager (rcumby@cornerbrook.com) or Director of Protective Services (tflynn@cornerbrook.com).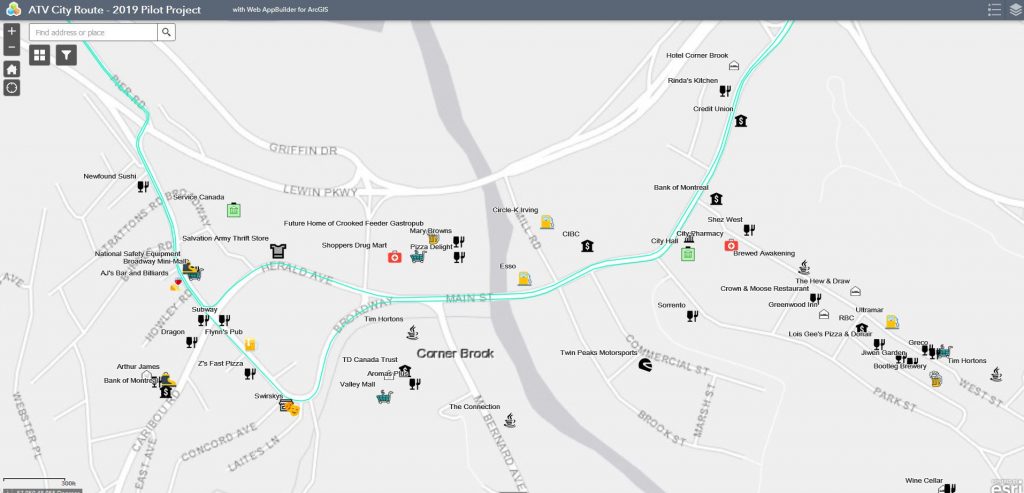 Features:
Legend, Filter Items, Layers List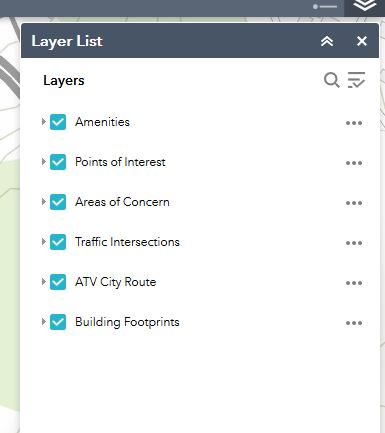 Related links:
For more detail on Corner Brook ATV regulations please visit: https://www.cornerbrook.com/bylaws/
Background Information: ATV Test Route In Corner Brook
Public Notice: Feedback Sought On Recreational Vehicles Regulation Bylaw
ATV Route: Map
Download gpx file of City ATV route: