An Important Connection: ATV Test Route In Corner Brook
Background: A new ATV route connection is being tested in the City of Corner Brook. The access route was developed in consultation with members of the ATV community and with a focus on safety.
ONLY ONE ROUTE through the City of Corner Brook has been designated for ATV use.
The proposed route primarily follows the waterfront with the exception of a venture through Main Street and Broadway for basic amenities. It follows Riverside Drive, Main Street, Herald Avenue, Broadway, Pier Road, Trail between Pier Road & Griffin Drive, Griffin Drive, Petries Street, to Hillards Road.
Public Feedback
Please provide feedback by May 22, 2019 at 4:30 pm
For more information or to provide feedback please contact Todd Flynn email: tflynn@cornerbrook.com or by mail to Corner Brook City Hall, Corner Brook Attention: Director of Protective Services.
Next Steps: The new Residential Vehicle Bylaw will come before Council on May 27, 2019
The use of ATV within the City will be monitored and evaluated on an ongoing basis.
The following strict conditions are in effect for the operation of ATVs on the route for operators (and passengers where applicable):
Drivers MUST stay on the designated route only.

All drivers must obey the Highway Traffic Act and Motorized Snow Vehicle and All-Terrain Vehicles Act.
The maximum speed is 40 kilometers per hour on the road and 20 kilometers on pathways.
All ATV/UTVs must be registered, drivers must possess a valid licence, and liability insurance.
Operators must be at least 16 years of age.
All ATVs must meet requirements as outlined under provincial legislation. Residents should ensure that their ATVs meet these specifications before operation on roadways.
ATVs are NOT permitted to operate on public roads between the hours of 10 p.m. and 7 a.m. on any day of the week.
ATV operation season will only be in effect from June 01st to October 31st
An ATV/UTV will be disallowed if it is modified and no longer meets the statutory description, such as the use of high-pressure tires, or muffler modifications.
Dirt bikes, trikes, and other 2-3 wheeled vehicles are prohibited.
Under the municipal ATV by-law the following types of ATVs are permitted:
Single-rider ATVs (4 wheeler)
Two-Up ATVs
Side-by-side
Utility Terrain Vehicles (UTVs)
The next steps in the process is the Recreational Vehicle Bylaw needs to be rescinded and replaced.
Click on the Map for Full Size: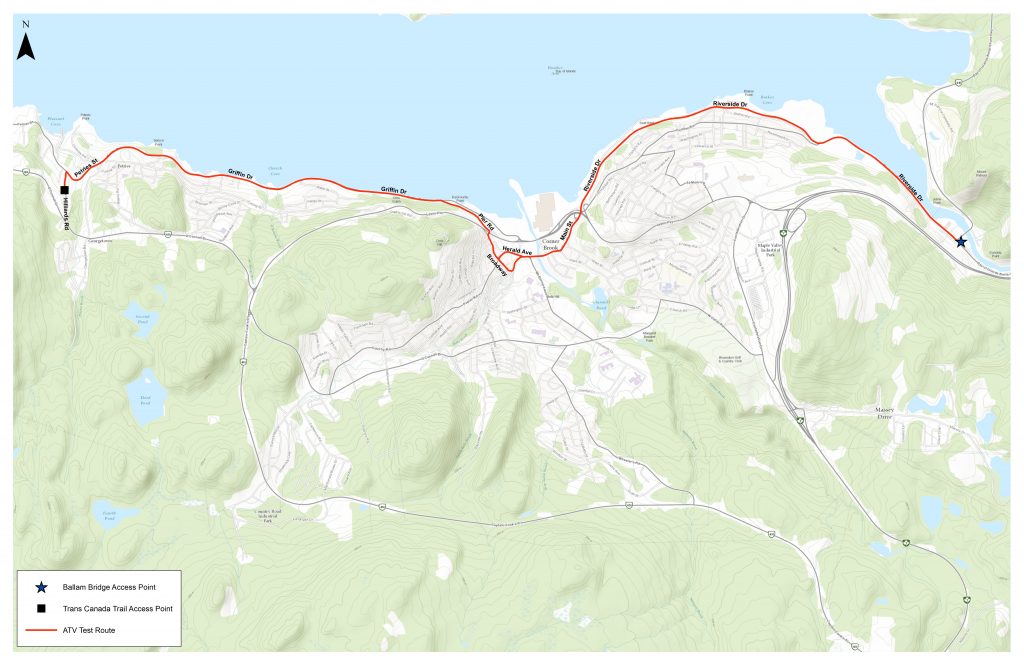 ---
Regulations
Public Awareness
Public Council Meetings
Public Safety Committee Meeting
May 8: Public Presentation at Municipal Awareness day Presentation
News: CBC, VOCM, Western Star
City Central May 22: Link
Related links:
For more detail on Corner Brook ATV regulations please visit: https://www.cornerbrook.com/wp-content/uploads/2016/05/Recreational-Vehicles-Regulations.pdf
Public Notice: Feedback Sought On Recreational Vehicles Regulation Bylaw
ATV Route: Map