The City of Corner Brook has completed construction of a new City Hall in the heart of the downtown core.  This $20 million state-of-the-art facility has achieved LEED (Leadership in Energy & Environmental Design) Silver designation under the international green building rating system.  Corner Brook City Hall is the first commercial building in Newfoundland and Labrador to obtain LEED certification!  The building is equipped with many environmentally-focused features such as a green roof and a Window on the World (WOW) building performance system.  The new City Hall is definitely a welcoming addition to the city's architecture and places Corner Brook at the cutting edge for sustainable structures.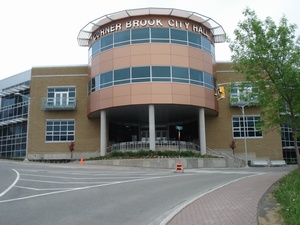 City Hall is  LEED® Silver certified by the Canada Green Building Council (CaGBC), a not-for-profit, national organization that works to advance green building and sustainable community development practices in Canada.
Corner Brook City Hall is the LEED® Project Spotlight in the Canada Green Building Council's October eNews.
As an internationally recognized mark of excellence, LEED, (Leadership in Energy and Environmental Design) is a rating system that provides building owners and operators that tools they need to have an immediate and measurable impact on their buildings' performance.
Some of the green features of the building include:
Green Roof
The green roof in City Hall is a sustainable green feature designed to provide extra insulation for the building as well as extra gardening space. The first layer of material is the metal decking, followed by glass mat gypsum board. Next is a rubberized roof membrane with a protection/separator sheet, and a secondary root barrier, followed by thick extruded polystyrene insulation. Another protection/separator sheet is placed on top of the insulation, with a root barrier/drainage layer and filter fabric above it. The last layer before the planted materials is extensive planting soil that goes to a depth of 100mm.
Over 18,000 plants are housed on the green roof including: dragon's blood stonecrop, low stonecrop, stonecrop, blue hair grass, creeping thyme, and creeping juniper. The vegetation planted on the green roof has to be able to withstand very hot conditions, and require little water, to thrive at the high altitude. Along with plants planted directly on the roof, seven planter squares were added containing fruits, vegetables, and flowers. Some of the fruits and vegetables include: strawberries, cucumber, rhubarb, cabbage, tomatoes, and peppers.
There is also a rainwater collection and storage system in the City Hall building. Rainwater and water not used by the plants is collected in a reservoir that has a 3,000 gallon capacity. When watering any plants in or around City Hall, including the green roof, the water used will come from the reservoir before using any of the City's domestic water supplies.
Green roofs are also known as "living roofs". Some benefits of green roofs are to increase agricultural space, increase real estate value, filter pollutants and heavy metals out of rainwater, filter pollutants and carbon dioxide out of the air, help insulate a building for sound, reduce storm water runoff, reduce heating, increase insulation value, reduce cooling, and create natural habitats for plants, insects, and animals. Adding a green roof to the City Hall also contributed to the LEED certification of the building.
Low E Windows
Windows affect building energy use through conductive heat transfer, solar heat gain and air leakage.  Glass windows have an emissivity (e) value that can be reduced by adding special coatings to the glass panes.  Emissivity is the ability of a surface to transfer due to radiation.  Low emissivity coatings have been applied to all glass panes in City Hall resulting in low-e windows.  Low-e windows actually lower the solar heat gain coefficient while allowing the visible light to pass through.  Low-e windows also prevent the loss of interior heat in cooler climates.
Sunshades and Cladding
Solar shading is the most underestimated source of passive cooling.  Perforated metal sunshades on the building exterior allow for exterior views while permitting a comfortable level of natural light.  Sunshades give you the flexibility in design to achieve a dynamic effect with the ability to reduce heat gain while allowing direct sunlight to illuminate the interior space.  Solar shading can create dramatic savings in air conditioning requirements, enable the use of more natural and less artificial light, eliminating the need for interior window treatments or expensive darkened glass that increases artificial light requirements.  They are virtually maintenance-free and produce continual savings year after year with little or no additional expenditures.
Encelium Energy Management System (lighting)
City Hall has incorporated the Encelium Energy Management System (EMS) as a way to conserve energy use in the building.  You achieve the right amount of light when and where required – eliminating waste energy.  The Facility Operator can control every facet of the lighting systems control lighting as part of a building wide energy management strategy to maximize savings.  The Encelium Energy Management System constantly monitors energy usage and can predict and avoid sharp increases in energy demand without affecting lighting quality.
Geothermal Heating
Saves approximately 496 metric tons of Greenhouse Gas.
Water Conservation
Low flow plumping fixtures are used throughout the building.  The roof is equipped with a rain water collection and storage system.  Three roof drains collect rainwater and reservoirs have a 3,000 gallon capacity.  Watering of any plants on the Green Roof or surrounding the building will use this collected water before using any water from the City's domestics supply.
Use of Low Emitting Materials
Low emitting materials were selected and used in the construction of City Hall.  Materials used in the construction were also sourced from local manufactures  (to support local businesses and to reduce the natural resources depleted in the transportation of goods to the construction site).
Lower Vehicles Emissions
The addition of two hybrid vehicles to the City's fleet, designated carpool parking for employees, bike racks and easy access to transit all contribute to a reduction of Greenhouse Gases.
The Windows on the World (WOW)
Located in the main lobby of City Hall, this console explains the buildings high performance features by showcasing exactly how much energy is being consumed in the building, as well as how much has been conserved.  It is also a sustainability management system tat provides energy management and interactive sustainability education.  Presented on a kiosk style touch screen display WOW invites building occupants and visitors to learn how the building has been designed to conserve energy and resources and preserve the natural environment.
City Hall is officially the first commercial building in Newfoundland and Labrador to be LEED Silver Certified.