Our future relies on a well-educated public to be wise stewards of the very environment that sustains us, our families and communities, and future generations.
The City of Corner Brook under the Sustainable Development Division, offers innovative education campaigns that focus on environmental issues in the City such as water conservation, composting and recycling.
Organizations or groups can contact the City to set up information session on a particular topic.  Programs can also be tailored to fit the needs of the organization or group.
For more information or to schedule a session please call 709-637-1630.
Storm Drain Fish Painting Initiative
Water and material entering storm drains in Corner Brook do not get filtered at a water treatment plant before entering our local water body.  Hazardous materials, such as pesticides, soap, motor oil and fertilizers that enter storm drains will eventually end up in the ocean.  This can affect water quality and create an unhealthy environment for aquatic animals, such as fish.
In the effort to remind the community of the importance of clean water and properly disposing of hazardous wastes, a group of 40 plus students painted yellow fish near storm drains and distributed fish-shaped brochures as part of a student leadership legacy project.
On Saturday, October 1st, 2011 the students were joined by City of Corner Brook staff to paint fish near drains in a surrounding neighborhood.  This initiative was an effective way to reinforce the knowledge gained by the students by taking action to help ensure clean water in our community.
The City of Corner brook supports this initiative and commends the admirable efforts of our youth.  It is a fun, participatory way to teach the importance of clean water and to demonstrate how decisions made by one person can make a difference to a whole community.
For more information about how to participate please contact 709-637-1630.
Cash for Cups
Cash for Cups is an event in collaboration with Corporate Partners in the beverage industry in an effort to reduce litter and beautify the community. Beverage containers comprise approximately 40% to 60% of roadside litter and this litter can be found in all areas of our community, creating an eyesore, a hazard to wildlife and detracting from the City's natural beauty. The event will pay 5 cents per cup to all volunteers, and there will also be 4 stamped cups valued at $100 each that will be hidden among other cups. The event aims to generate public interest to reduce littering activity while increasing corporate stewardship responsibility for the cups businesses generate. Due to overwhelming participation in 2017, the City of Corner Brook hopes to make Cash for Cups an annual community involvement and education event.
TD Tree Days
TD Tree days is a TD Bank initiative from the TD Friends of the Environment Foundation that supplies funding for urban greening. Since the program was launched in 2010, over 285,000 native trees and shrubs have been planted across the country. In 2016 the City of Corner Brook joined TD Tree Days to plant 150 trees on Riverside drive, with the help of local volunteers. The City of Corner Brook hopes to continue working with TD and other organizations to help make Corner Brook greener, enhance the natural beauty of the city, and create a more environmentally friendly urban environment.
Curbside Giveaway Weekend
The Curbside Giveaway Weekend is an annual event started in 2010. During the event weekend, residents can place any re-usable items on their curb with a "free" sign attached and treasure hunters can come by and take items with signs attached. The purpose of this event is to make residents think of re-using items, and diverting working items from the landfill. If a treasure is not claimed by a treasure hunter, residents are encouraged to donate the items to charities that may need it. Examples of "treasures" to set out for the giveaway include books, CDs, DVDs, furniture, small appliances, sports equipment, toys, tools, and construction materials.
Backyard Composting
Did you know that approximately 30-40 % of residential garbage is organic waste that can be composted into mineral rich soil?  By composting, we can divert nearly half our garbage from going to the landfill, while making nutrient rich soil for our gardening needs.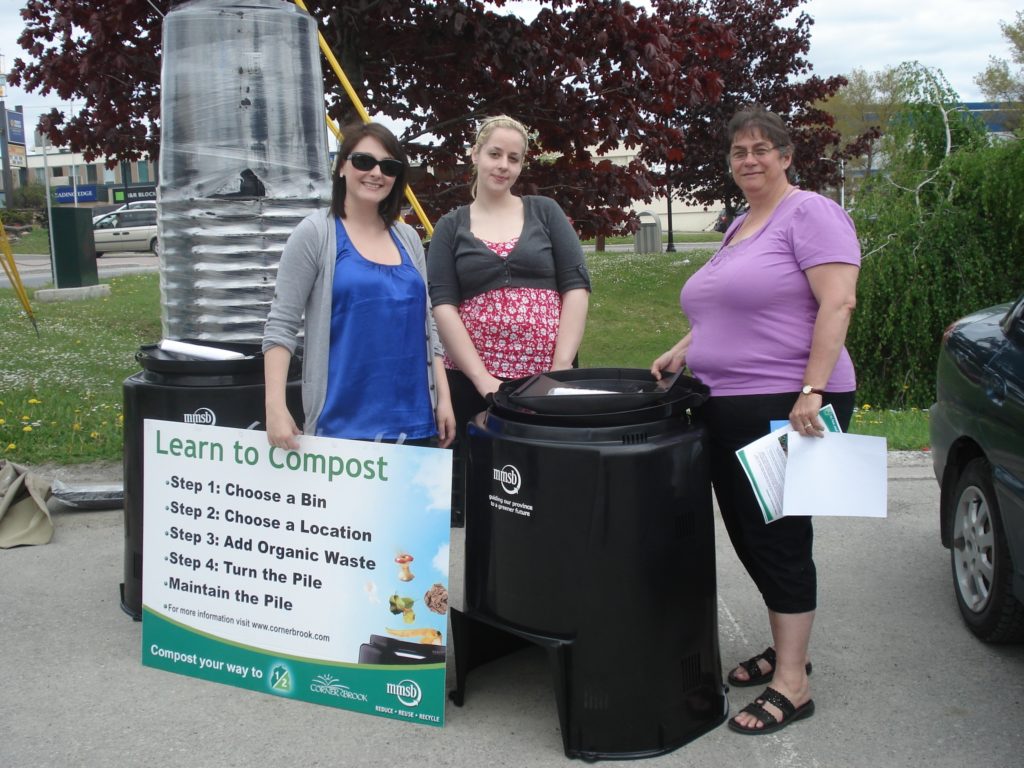 As part of an overall effort to implement waste management solutions, the City of Corner Brook is pleased to be partnering with the Multi-Materials Stewardship Board (MMSB) to offer backyard compost bins to residents at a reduced rate.
The City has compost bins available and is offering them at a subsidized price of $21.99 plus HST.  Residents can purchase compost bins at City Hall.
The City is also offering information sessions to groups.
For more information email compost@cornerbrook.com.