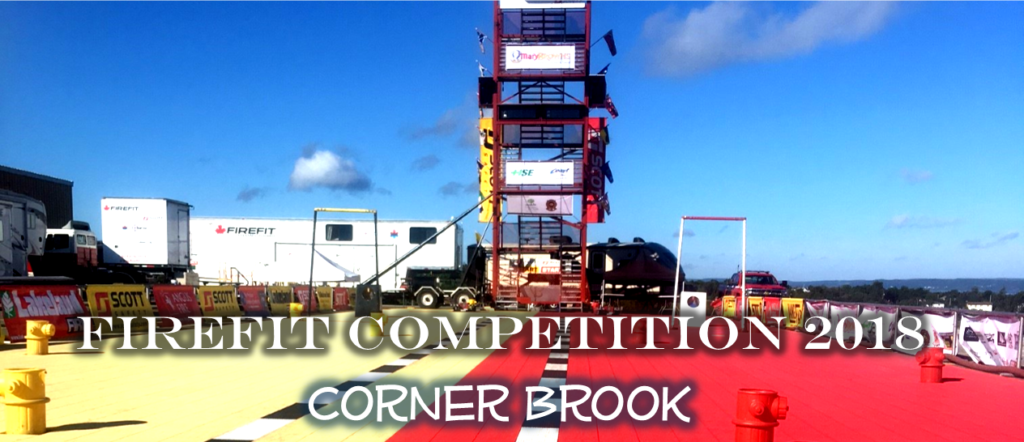 July 28th & 29th Corner Brook, NL
FireFit! – Fitter Faster Stronger … FireFit!
Join us for the regional competition for the Firefit 2018
What is FireFit
The FireFit Championships is a competition based on fire fighting tasks commonly performed in emergency situations.
Listen to what our Competitors say about FireFit!  https://youtu.be/G3YTivF8ff4
There are many different levels of Competitors, from the seasoned 10 year veteran to the first time rookies.
The FireFt Event is very demanding. Training prior to competition is imperative. Your first Event will be an eye opener but will give you a base to work from. You will meet many other first time Competitors as well as those who have made this their sport and have been competing for years. Take advantage of the fact that the course is open for inspection, in most cases, the day before the Event takes place. Come down and meet the FireFit Crew as well as other Competitors!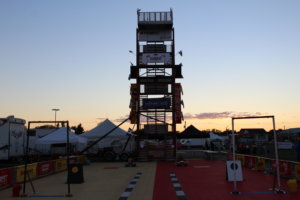 We have a number of Events to participate in depending upon your level of fitness and commitment!
FireFit Individual & Team Competition
All teams and individuals are welcome to compete. All regional events are open. Teams and individuals eligible to compete for the Regional Byes at this Regional are all Departments from Newfoundland & Labrador.
Competitors from other Countries are welcome to compete for International Bye to the FireFit Championship Finals to be held in Ottawa, On.
The First Place Individual and Team in each Category receives a Bye to Final Day of the FireFit Finals. Team times of 9 minutes or less qualifies a team to compete on one of the 'Wild Card Days' during The Finals.
(A minimum of 14 Teams from the two 'Wild Card Days' will move on to Final Day at Finals).
1. FireFit Relay (3 – 5 person relay)
Relays with a time of 1:50 or faster run at a Regional Event will earn a spot onto Final Relay Day (Sunday) at the FireFit Finals schedule this year in Ottawa, On (Sept. 6th to 10th).  Categories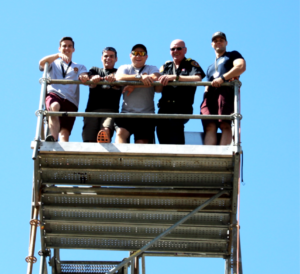 include: Open, Industrial, Over 40, School, Women's and Mixed.
Please see Registration page for Knockout Tournament Details.
2. FireFit X3 (2 person technical relay)
The Fastest X3 Relay Team in each Category from each Regional Event, qualifies for a X3 'Bye' on the Relay Finals Day (Sunday) at the FireFit Finals.   X3 Relay Teams that meet the qualification times in their category qualify to compete in the X3 'Wild Cards' held on Wild Card Relay Day (Friday).
Please see Registration page for X3 Category qualification details.
3. FireFit Individual / Team (Team made of of 3 – 5 team members)
FireFit History link
---
Event Address
Corner Brook Civic Centre
1 Canada Games Place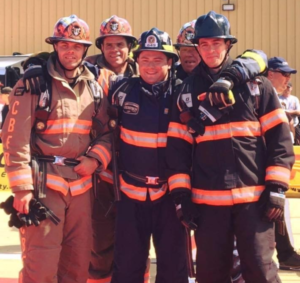 P. O. Box 218
Corner Brook, NL
A2H 6C9
Main Contact Number
709-637-1230
Google Maps link
Schedules
Click on Poster for larger image: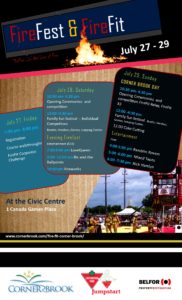 Saturday Night Concert  & Corporate Challenge
Other FireFit Events
2018 FireFit Schedule
Sept. 5th to 9th FireFit Nationals & World Championships in Spruce Meadows, AB
---
Parking (Click for a larger Image)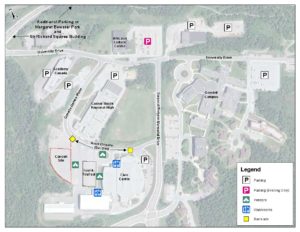 Hotel Accommodations
Listed below are some hotels and resorts in the city or nearby and in its adjacent tourist destinations.
Contact details link
Greenwood Inn & Suites
Glynmill Inn
Greenwood Inn
Comfort Inn
Quality Inn
Marble Inn Resort
Marblewood Village Resort
Marble Mountain Resort
University Residence
Grenfell Campus Memorial University of Newfoundland
Camping
---
Parking
Civic Centre parking will be turned into the Firefit Area.
Accessibly permit parking will be designated directly outside the Kinsmen Arena Entrance.
Civic Centre lower parking lot will have free parking available.
Friday after 5:00 PM there will overflow parking available at Academy Canada and Corner Brook Regional High.
---
Volunteer Form
Please download this form and email it to bdeluney@cornerbrook.com
---
About Corner Brook
Link https://www.cornerbrook.com/about-corner-brook/
Map link
What to do while in Corner Brook
---
Contact
FAQs and need to know link
For more Information Contact
FIREFIT OF CANADA LTD.
25510 – 58th Ave.
Aldergrove, B.C. V4W 1G7
Tel: 604.626.0918 Fax: 604.626.0892
Email: firefit@firefit.com
---
Sponsors
Special thank you to our Corporate Sponsors
| | | |
| --- | --- | --- |
| | | |
| City of Corner Brook | Scott Safety | |