Sustainable Transportation
Sustainable transportation; such as walking/running, biking, carpooling, and public transit, is a great way to lower green house gas (GHG) emissions and offset your carbon footprint.
Public Transit
The City of Corner Brook has a public transit system that travels all over the city at different times throughout the day so why not take advantage of this great opportunity?  A bus with 24 passengers burns much less fuel than 24 separate vehicles and significantly lowers the amount of traffic.
Investing in Transit
Emissions resulting from road transportation are a major contributor to air pollution and climate change.  Public transit helps this situation by giving people an alternative to private vehicles.  The City is continuing to invest in public transit to make it more accessible and user friendly.  A new transit trial has introduced expanded hours of operation and provided real time transit information to passengers.  Route information can also be found using Google Maps!  A new Bus Transfer Station on lower Park Street has been constructed complete with washroom facilities for Bus Drivers and 19 new bus shelters were installed throughout the City.
Free Transit on Clean Air Day
During Environment Week each year Corner Brook Transit provide FREE transit service all day in support of Clean Air Day.
National Clean Air Day takes place during Environment Week and is a celebration of environmentally-friendly activities that promote clean air and good health across Canada.  It is a great opportunity to make environmentally-friendly lifestyle choices.  Free transit provides the opportunity to highlight the value of the bus service and allow first-time riders the opportunity to experience the transit system at no charge.
Making simple changes in our daily lives to reduce emissions is a wonderful way to cut down on air pollution and an essential means to improving air quality.
Carpool
Why not carpool with a neighbor or friend?  If you work with someone who lives close to you or is passing by your residence, carpooling is a good way to help lower GHG emissions.
The City of Corner Brook has five designated carpool spaces at our new City Hall location and implemented a Carpool Management Plan to encourage less vehicles on the road.
Greener Fleet
The City of Corner Brook is proud to have introduced two new green vehicles to our fleet.  Our hybrid cars are being put to use for municipal purposes, such as parking enforcement, building inspections, and other functions.  Smart move!
Trails
Almost everything is within walking distance in Corner Brook!  Stroll along Corner Brook Stream Trail to the store or work as an easy and healthy way to keep Corner Brook green.  Use these trails as short cuts to travel throughout the city, as well as to enjoy a little nature.
Bikeway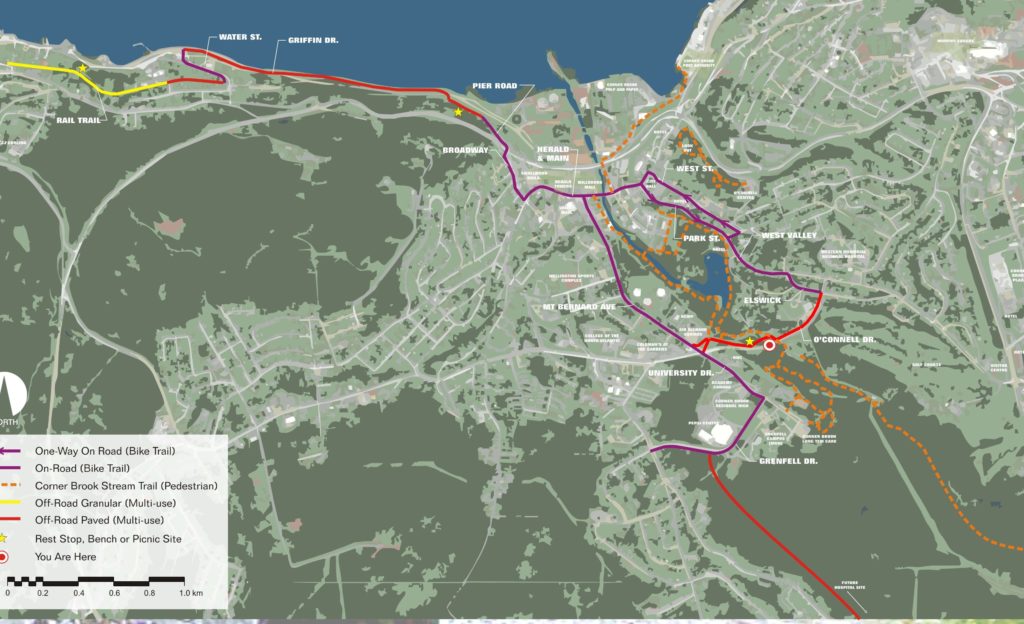 The City of Corner Brook has introduced a share the road policy for cyclers to travel more easily throughout the city.  Check out the City's network of bike-paths that extend approximately 11 KM throughout the Community and include a new bridge across Corner Brook Stream.  Throughout the city are share the road signs and bike stencils on the pavement to show motorist that cyclist also have a right to use the roads for transportation.