The City of C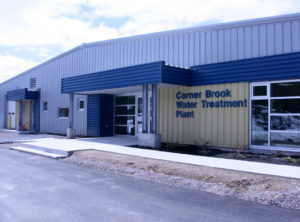 orner Brook supplies water to the municipalities of Corner Brook, Massey Drive and Mount Moriah.  The water originates to the south-east of the region in the Corner Brook Lake and Eastern Lakes water sheds, both of which feed into Corner Brook Stream.  Water is taken from a point in the stream on the eastern side of the TCH into a holding pond called Trout Pond where primary settlement of sediment takes place.  Water is then piped from Trout Pond to the City's Water Treatment Plant on the western side of the Trans-Canada Highway.
Water Treatment Facility & Post Chlorination
The City's Water Treatment Plant (WTP) was opened in the Spring of 2015 and is located on the TCH approximately 2 km west of the Massey Drive interchange.  This project also included the construction of a new water transmission (or "feeder") main to deliver the water from the treatment plant to the western portions of the City as well as the Town of Mount Moriah.  This allowed the City to shut down the secondary water supply known as the Curling Water Supply.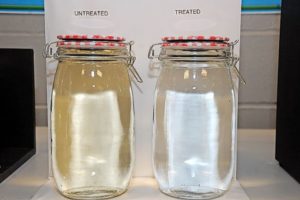 The WTP is a state of the art facility featuring a high rate Dissolved Air Floatation (DAF) system, gravity dual-media filtration and ultraviolet light treatment to ensure the water is both safe and enjoyable for consumption.  All testing performed on the water has confirmed that the water meets all the required parameters specified in the Guidelines for Canadian Drinking Water Quality and in many cases far surpasses the minimum standards.
The City also has several post chlorination stations to allow balancing of chlorine content throughout the system and to ensure minimum a residual amount is maintained at the extents of the system and in the reservoirs.
 Keep our Water Clean
The City of Corner Brook has protected watersheds to ensure a clean, safe supply of potable water.
Help us protect the safety and quality of your drinking water.
Do not:
Fish
Swim
Boat (canoe, inflatables, etc)
on any of the ponds or waterways in our watershed areas.
Other restricted activities within our watersheds include:
Cutting wood
Use of motorized vehicles
Camping
Fires
If you walk a dog in the watershed, keep them on a leash and pick up and properly dispose their waste.