Mill Whistler Road Train Schedule
Corner Brook Mill Whistler Road Train Schedule 2022
Back for the 2022 summer season, the Mill Whistler Road Train is having a School's Out Bash on Sunday, June 26th to celebrate the beginning of summer vacation! Explore beautiful downtown Corner Brook with your family and friends. Our downtown is experiencing an exciting revival – and there is no better way to experience our lively city core than with a drive on the Mill Whistler Road Train!
Start Date: June 26th, 2022
Enjoy our beautiful city's rich culture on this 15-20 minute adventure
Cost is $2 per person – cash only
Pick up and drop off location is at the Majestic Lawn on West Street across from the Corner Brook sign
There will be an additional stop on Broadway on days that cruise ships are visiting Corner Brook
See Twitter updates below for news on the train's operation
For the information of residents: Starting September 4th, the Mill Whistler will have reduced hours, only running on select days which will be advertised ahead of time. Thank you for the wonderful season!
---
Schedule: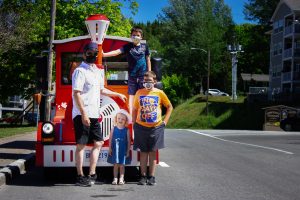 The Mill Whistler Road Train has finished regular operation along it's main route around the city for the public this season. The train will continue to run occasionally for special events.
Stay tuned for updates on the Mill Whistler Road Train!
---
Route
How to Ride
You can board the train at one designated location: the Majestic Lawn on West Street (shown with the pink star in the map above).  *subject to change based on Covid-19 guidelines
Live Location Tracker of the Corner Brook Mill Whistler Train is now available!
Accessibility
The Mill Whistler is equipped with a wheelchair ramp and two individual accessible seats. All other seats are bench style with access from individual doors at the curb. Service animals are welcome aboard! 
Safety- Travelers are asked to ensure that they take safety precautions while embarking, disembarking, and riding the Mill Whistler:
Do not embark or disembark the train until it has fully come to a stop.  Riders are responsible for opening the door to their seat and closing them.  Please take caution when using the step to board the train.
Do not hang outside of the train.  The Mill Whistler has open sides to ensure a fun experience for riders, however riders must not put their arms or head out of the window area.
The train is equipped with seat-belts which are mandatory.
All children must be accompanied with an adult.
Each train car is equipped with a safety alert stop button – this is only to be used in the event of an emergency.
COVID-19 SAFETY
Stay home if you are sick or have been in contact with a person showing signs and symptoms of COVID-19 in the past 14 days.
Cough and sneeze into your elbow.
Please sanitize your hands before boarding the train – hand sanitizer stations are provided.
Thanks for being patient!                
Social Media: 
Twitter:  @CB_MillWhistler
Instagram: @destinationcornerbrook
Facebook: @millwhistler
TikTok: @millwhistler
Make sure to tag us and use #millwhistler22 on all photos of you enjoying the Mill Whistler! 
Contact Information:
City of Corner Brook
(709) 637-1666
Email: MillWhistler@cornerbrook.com