Parks And Playgrounds
Corner Brook boasts a picturesque landscape dotted with charming parks and inviting playgrounds that enchant locals and visitors alike. With its lush greenery, Margaret Bowater Park stands out as a serene oasis, offering tranquil walking trails, a serene pond, and well-maintained gardens that bloom in vibrant colors during the summer months. In addition to this beloved park, locals cherish numerous neighborhood playgrounds scattered across the city, providing safe and enjoyable spaces for children to explore and play, ensuring that Corner Brook remains a place where nature and recreation harmoniously coexist.
To book please submit a Events Submission Form Here
Parks
Margaret Bowater Park
O'Connell Drive (between University Drive & West Valley Road)
Margaret Bowater Park offers a supervised natural swimming area with change area and canteen services during July and August.  There are two playgrounds, a performance stage and open spaces.
The space, facilities and central location makes it "the" host venue for special events including Canada Day Celebrations, Corner Brook Day Celebration, and the Corner Brook Winter Carnival.
Majestic Lawn
Situated near the West Street business district, Majestic Lawn boasts a large open space area, a gazebo with access to electricity and a tree-lined perimeter.  Whether eating lunch on a summer day or listening to entertainment, this facility offers a variety of recreational and cultural events.
Bartlett's Point Park
A day park situated on the shoreline of the Bay of Islands in the Curling area of the city. It features a playground, walking trails, picnic areas, washrooms and access to the beach adjacent to the local marina. There are interpretive features that provide history of the Bartlett family; early settlers who played a prominent role in the community's development. It is a fabulous place to relax and enjoy spectacular sunsets over the mountains and salt water. Free parking is available via the Bay of Islands Yacht Club.
Captain James Cook National Historic Site
Located on Crow Hill, Atlantic Avenue. In 1767, the famous British explorer and cartographer Captain James Cook surveyed the Bay of Islands and was the first to map the area.  The Captain James Cook Monument is a National Historic Site displaying copies of the charts mapped by Captain Cook.  This site is easily accessible by car and offers a vantage point for a breathtaking view of the Bay of Islands.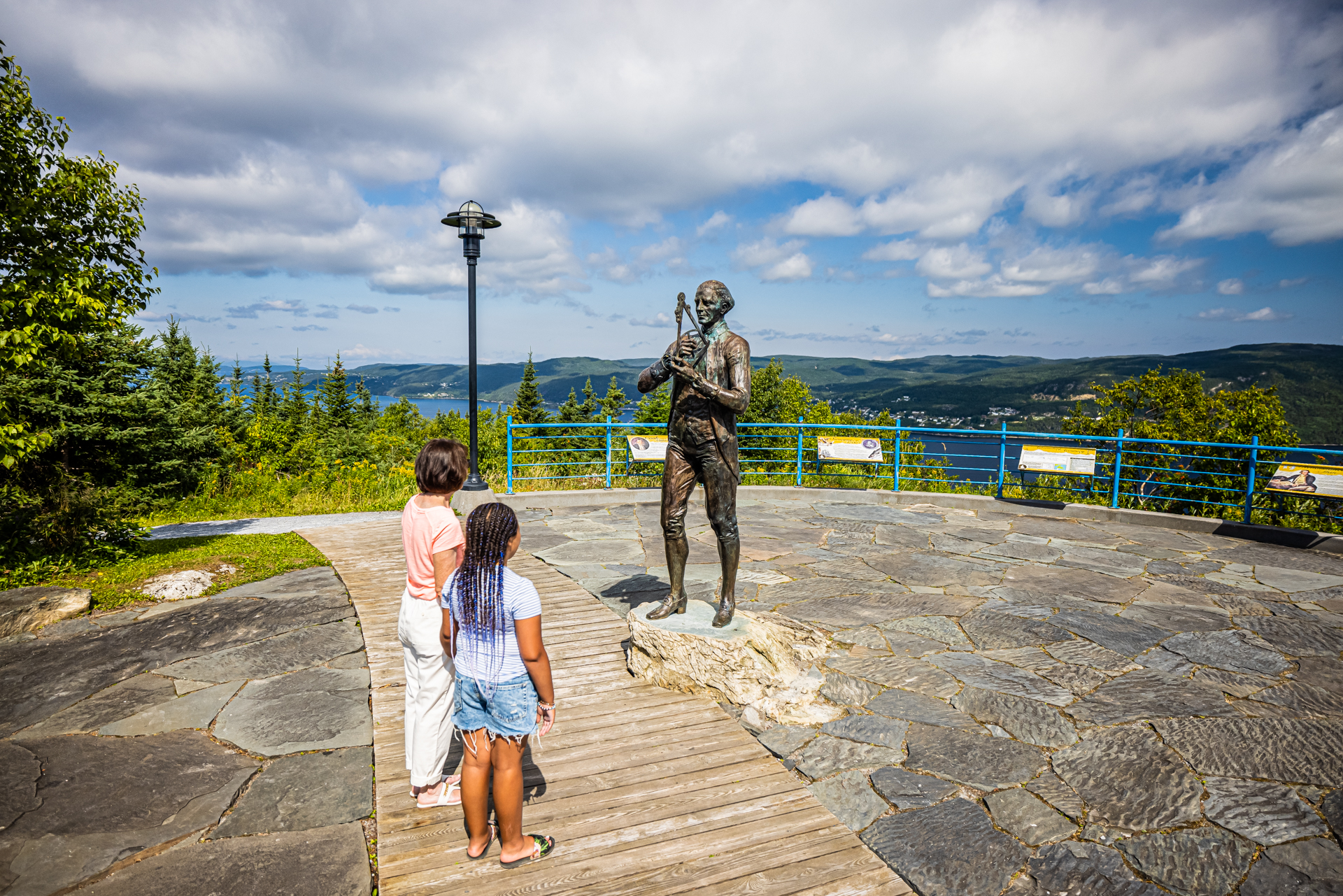 Playgrounds
The City of Corner Brook has a number of unsupervised playgrounds designed for children from 2-12 years of age.  The playgrounds are regularly maintained and adhere to Canadian Standards for Children's Play Spaces.
Margaret Bowater Municipal Park– O'Connell Drive
J.J. Curling Elementary Municipal Playground– Woodbine Avenue
St. Mark's Avenue Municipal Playground– St. Mark's Avenue
East Valley Road Municipal Playground– East Valley Road
Carberry Road Municipal Playground– Carberry's Road
Brandon Municipal Playground– Batstone's Road
Brosnan Street Playground– Brosnan Street
Bartlett's Point Park
Splashpad
The Corner Brook splash pad at Margaret Bowater Park features a 1,060 square foot play surface complete twelve spray features. The location for the project has been selected at Margaret Bowater Park on the greenspace near the pool area. Construction is expected to begin in late fall with a fully operational splash pad anticipated for the summer of 2019.
The water spray features will be suitable for users of all ages with distinct bays for toddlers, families, and older users. Spray features include climb-on characters, run-through hoops, deluge buckets, flush mounted sprayers, and elevated sprayers. Users will be able to activate each of the bays by pressing a large push button that is on a timer.