Corner Brook Stream Trail
The trail winds through the City, following the meandering Corner Brook Stream.  The trail is groomed and has rest areas throughout the three diverse sections.
The downtown trail features the Glynmill Inn Pond where a family of swans is the star attraction.  This section of the trail can be accessed via:
Glynmill Inn – 1b Cobb Lane
Margaret Bowater Park – O'Connell Drive
Sir Richards Squires Building – O'Connell Drive at Mount Bernard Avenue
Park Street – Next to Sorrento's
Corner Brook Port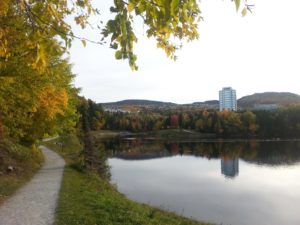 The upstream section takes walkers through an exciting natural gorge area offering spectacular views.  The sunset from this area is amazing!  Access to this part of the trail via:
Crocker's Road – near Exit 5, Trans Canada Highway.
Three Bear Mountain offers walkers a panoramic view of the City of Corner Brook.  A short walk will bring you to information panels highlighting various scenes you are able to view from this vantage point.  This trail can be accessed from the parking lot of O'Connell Centre located at 1 Hospital Hill.
Click here for online maps and trail descriptions.