The City Manager is the chief administrative officer of The City of Corner Brook and reports directly to City Council​​. The City Manager provides leadership and direction to all departments of the administration. The City Manager is responsible to provide Council with information and advice on policy matters and ensures that Council's decisions, policies and programs are executed. The City Manager also oversees the City's operating and capital budgets and is accountable for long-range and corporate plans for the organization and forms key relationships with other levels of government.
On February 11th, 2019 Mr. Rodney Cumby began his role as the new City Manager.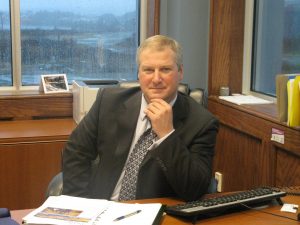 Prior to joining the City of Corner Brook he had over 20 years' experience in executive management.  His previous position was Executive Manager of Operations and Planning for the City of Lloydminster. Mr. Cumby held positions as CAO with the towns of Paradise, Portugal Cove-St. Phillips, Torbay, and as Town Clerk/ Manager with the Town of Pouch Cove.
Mr. Cumby holds a Bachelor of Commerce Degree from Memorial University and has completed additional training in Government Leadership from the University of Alberta. He is a former President of the Professional Municipal Administrators Association (PMA) and a past Director with the Canadian Association of Municipal Administrators (CAMA).
| | |
| --- | --- |
| City Manager:  Mr. Rodney Cumby | |
| Phone:     709-637-1532 | |
| Fax:           709-637-1625 | |
| E-mail:     rcumby@cornerbrook.com | |
Please click here to view City Manager's Office Organizational Chart
Please click here to view Finance & Administration Organizational Chart
Please click here to view Community, Engineering, Development & Planning Organizational Chart
Please click here to view Public Works, Water & Waste Water Organizational Chart
Please click here to view Protective Services Organizational Chart