Corner Brook City Council
Corner Brook City Council is the legislative body that represents the citizens of Corner Brook.  City Council is composed of one Mayor, and six Councillors who hold office for a four-year term.
The responsibility of carrying out City Council's policies rests with the Executive Team, led by the City Manager.
A new council was voted in on September 28, 2021. This page will be updated accordingly after the swearing in and other appointments. 
Current City Council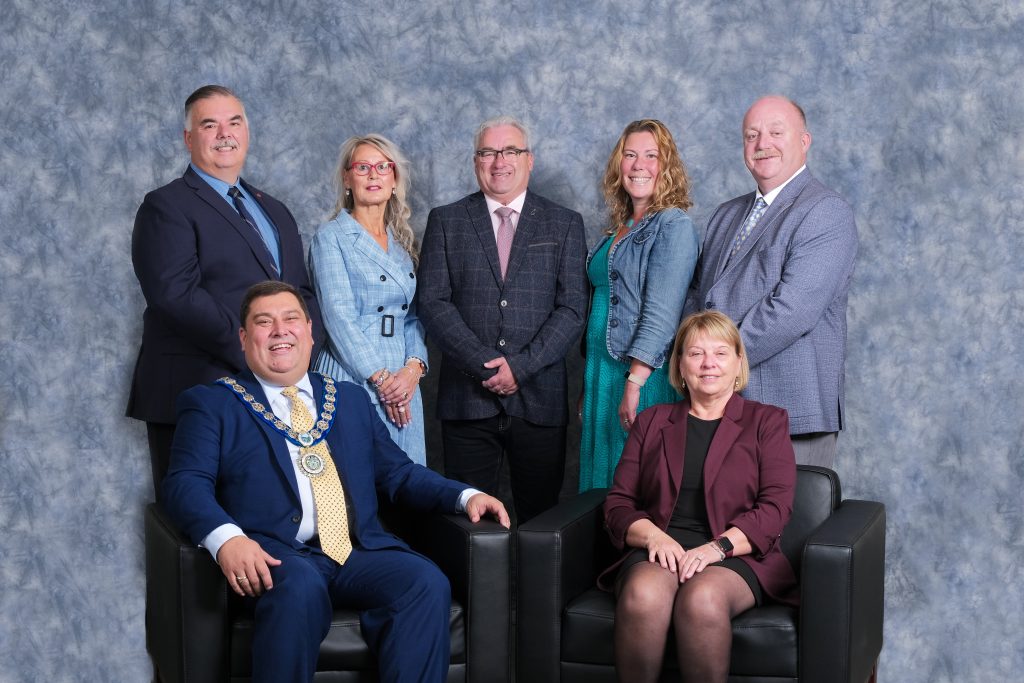 Front: (L-R) Mayor Jim Parsons, Deputy Mayor Linda Chaisson
Back: (L-R) Councillors Charles Pender, Pamela Keeping, Bill Griffin, Pamela Gill, Vaughn Granter
Council Information
Contact information for Elected City Officials  Click Here
Meetings, Agendas and Minutes Click Here
2021-2022 City Council Committees
*In accordance with the Terms of the Reference the Mayor is a member of all Council Committees. All committees are appointed for one year and are designated annually. 
The Committee of the Whole structure consists of a Public Council meeting where Council appointed topic leads can bring forward updates and have discussion on topics from each of the below department groups. Council topic leads are appointed annually. 
Committee of the Whole Topic Leads
Capital Works and Engineering: Councillor C. Pender 
Development and Planning: Councillor B. Griffin
Finance and Administration: Council P. Gill
Public Works, Water & Wastewater: Deputy Mayor L. Chaisson
Protective Services: Councillor V. Granter
Recreation and Tourism: Councillor P. Keeping
Advisory Committees
Accessibility and Inclusiveness Community: Deputy Mayor Chaisson and Councillor Granter
Community Partners: Councillor Gill and Councillor Keeping
Youth Advisory Committee: Deputy Mayor Chaisson
Special Committees
Regional Aquatic Centre Governance Committee:

Councillor Pender
Outside Appointments
Western Regional Waste Management:

Councillor Gill and Deputy Mayor Chaisson

Rotary Arts:

Councillor Granter

Great Humber Joint Council: 
Corner Brook Port Corporation:

Mayor Parsons

Deer Lake Airport Authority:

Councillor Griffin
Election
Election Information  Click Here
Council Remuneration  Click Here
Council Meetings
Listen or View the Public Council Meetings
BOIR | Bay of Islands Radio is Live  at 7pm on 100.1 FM.
Click on Listen live

Rogers is live at the Council meetings
Go to http://Rogerstv.com select Corner Brook on the top right corner
click on the link that says
-watch now
Council Travel Reports